25 million people are needlessly blind
They can be cured in 25 minutes, for as little as $25 each
But despite the best efforts of the world's eye care organizations at current funding levels, the backlog is growing and the world is slowly becoming more blind!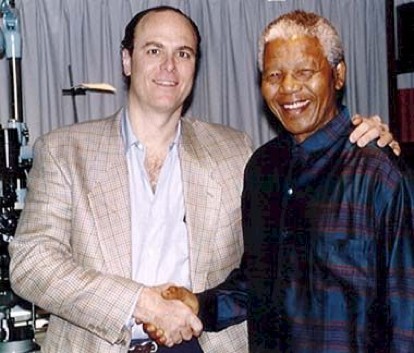 One World Sight Project founder and president Richard Weiss, M.D. welcomes former South African President Nelson Mandela as a OWSP Special Advisor.
We have been fortunate to have had the blessing and support of Stevie Wonder and former South African President Nelson Mandela, who both joined us as Special Advisors!
The ultimate objective of OWSP is to provide relief and development: 1- relief by curing blindness on every continent as an example of effective international cooperation, and 2- development of sustainable eye care delivery systems in every nation.
One World Sight Project supports the goals of the World Health Organization, VISION 2020 and the International Agency for the Prevention of Blindness (IAPB) in their efforts to reverse the blinding of the world.
By focusing resources on the problem of preventable and curable blindness, the international ophthalmology community can act as the catalyst for fund raising events of unprecedented scope and effectiveness, bringing sight to millions of people.